Database
Welcome to the Asta-Nielsen Database
To filter the database for specific items please use the corresponding functionality on the right side.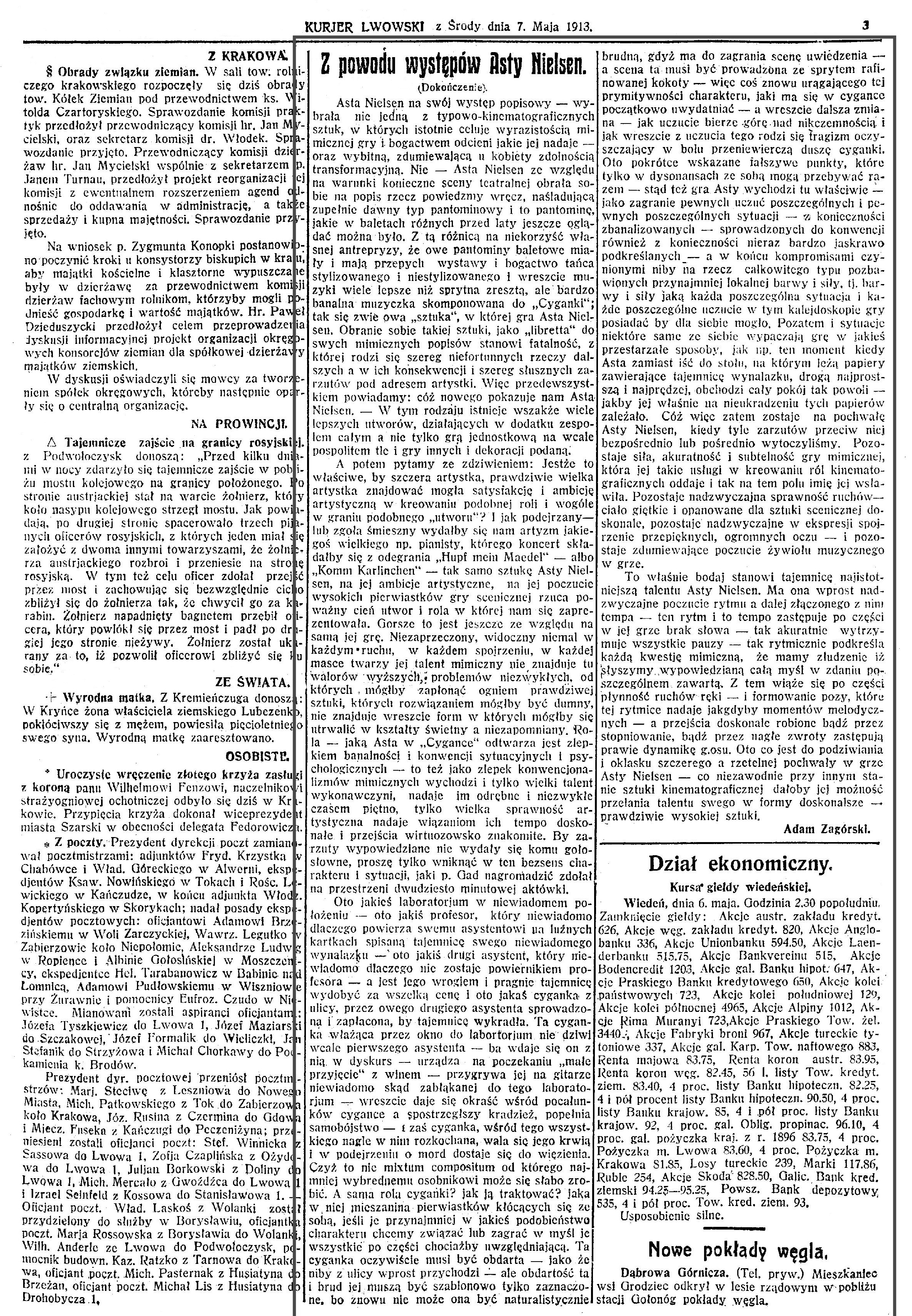 Publisher:
Kurjer Lwowski
Town:
Lviv (Lemberg) (Lwów), Austria-Hungary
Film:
Cyganka (pantomime) (Cingara (pantomime))
Persons:
Nielsen, Asta

Details: actress

Zagórski, Adam

Details: writer, journalist
Info:
Adam Zagórski: Z powodu występów Asty Nielsen. (Dokończenie). In: Kurjer Lwowski, No 208, 7 May 1913, Morning Edition, p. 3.
Übersetzung aus dem Polnischen: Aneta Krzyskow (Universität Trier); Redaktion: Martin Loiperdinger (Universität Trier)
Kurjer Lwowski, Nr. 208, Mittwoch, 7. Mai 1913, Morgenausgabe
Anlässlich der Auftritte von Asta Nielsen.
(Schluss)
Asta Nielsen hat für ihren spektakulären Auftritt keines ihrer typischen kinematographischen Kunst-Stücke gewählt. Sonst glänzt sie in diesen mit dem treffendem Ausdruck ihres mimischen Spiels und der Vielfalt der Schattierungen, die sie ihrem Schauspiel verleiht, sowie mit ihrer überragenden, für eine Frau erstaunlichen Verwandlungsfähigkeit. Nein – Asta Nielsen hat sich wegen der auf der Bühne gegebenen Bedingungen für den alten, nachahmenden Typus der Pantomime entschieden – und zwar für eine Pantomime von der Art, wie sie noch vor Jahren in Ballettaufführungen zu sehen war. Allerdings war ihre Ballettpantomime prächtig ausgestattet und bot eine Vielfalt an stilisierten und nicht stilisierten tänzerischen Darstellungen. Jedoch hätte sie eine viel bessere Musik verdient als die pfiffige, aber recht banale Musik, die für Zingara (so heißt das 'Kunst-Stück', in dem Asta Nielsen spielt) komponiert worden war. Solch ein 'libretto' als Begleitung ihres mimischen Spiels zu wählen, war ein Fehler, dem eine Reihe weiterer ungünstiger Umstände entsprangen, was der Künstlerin zu Recht zahlreiche Vorwürfe einbrachte. Wir wollen deshalb vor allem fragen: Was zeigt uns Asta Nielsen Neues? – Es gibt nämlich viele und auch bessere Kompositionen, die zudem das Zusammenwirken eines ganzen Ensembles bieten und nicht nur das Spiel eines Individuums vor ganz gewöhnlichem Hintergrund und Dekor.
An diesem Punkt fragen wir verwundert: Ist es denn richtig, wenn eine ehrliche Künstlerin, eine wahrlich große Künstlerin ihre Befriedigung und ihren künstlerischen Ehrgeiz in der Erschaffung einer solchen Rolle und überhaupt im Spielen einer solchen 'Komposition' finden kann? Wie verdächtig und sogar lächerlich würde uns das Talent einer großen Pianisten erscheinen, dessen Konzert nur aus Wiedergaben von Hüpf mein Mädel oder Komm Karlinchen besteht! –Die Aufführung und die Rolle, in der sich Asta Nielsen uns präsentierte, wirft einen Schatten auf ihren künstlerischen Ehrgeiz und auf ihr Empfinden, was die Elemente des Schauspielens angeht. – Es steht jedoch noch schlimmer mit ihrem Schauspiel selbst. Ihr unbestrittenes, in beinahe jeder Bewegung, jeder Geste, jeder Gesichtsmaske beobachtbares mimisches Talent findet hier keine höheren Herausforderungen, keine besonderen Probleme, die das Feuer einer wahren Kunst anfachen könnten und das Talent der Schauspielerin in ihrer Lösung triumphieren ließen. Letztendlich findet ihr Talent keine Form, durch die es sich in eine wunderbare und unvergessliche Gestalt verwandeln könnte. Die Rolle, die Asta in Zingara spielt, ist ein Gefüge aus Banalitäten, aus situationsbedingten und psychologischen Konventionen sowie – aus mimischen Konventionen. Nur das große Talent der Künstlerin verleiht dem Stück manchmal eine eigene und außergewöhnliche Schönheit, nur ihre große künstlerische Leistung gibt den virtuos glänzenden Überleitungen ein herausragendes Tempo. Damit die erhobenen Vorwürfe niemandem als gegenstandslos erscheinen, bitte ich Sie, sich hineinzuversetzen in die situativen Sinnlosigkeiten von Asta Nielsens Rolle, die Herr Gad in dem zwanzig minütigen Einakter aufgehäuft hat.
Hier nun in unbekannter Lage irgendein Laboratorium–  und hier irgendein Professor, welcher unbekannterweise seinem Assistenten das auf losen Blättern aufgeschriebene Geheimnis seiner unbekannten Erfindung anvertraut – hier nun irgendein zweiter Assistent, der unbekannterweise nicht zum Vertrauten des Professors wird, sondern sein Feind ist und dieses Geheimnis um jeden Preis herausfinden möchte  und hier nun irgendeine Zigeunerin von der Straße, von diesem zweiten Assistenten herbeigeholt und bezahlt, damit sie das Geheimnis stiehlt. Diese Zigeunerin, die durch ein Fenster in das Laboratorium hineinklettert, versetzt den ersten Assistenten keineswegs in Verwunderung – Ha! er fängt sogar einen Disput mit ihr an – veranstaltet spontan ein 'kleines Fest' mit Wein  – er spielt für sie auf einer Gitarre, die unbekannterweise irgendwie ihren Weg in das Laboratorium gefunden hat – lässt sich schließlich von der Zigeunerin unter Küssen bestehlen – und begeht Selbstmord, nachdem er den Diebstahl bemerkt hat. Und die Zigeunerin – zu allem Überfluss plötzlich in ihn verliebt – kommt, befleckt mit seinem Blut, wegen Mordverdacht ins Gefängnis. Ist das nicht alles ein mixtum compositum, das sogar die weniger anspruchsvollen Zuschauer verwirren muss? Und die Rolle der Zigeunerin selbst? Wie soll man sie betrachten? Welch eine Mischung aus widerstreitenden Elementen, die sich weder zu einer Charakterdarstellung zusammenfügen lassen noch gedanklich miteinander vereinbar sind! Diese Zigeunerin muss natürlich zerlumpt sein – da sie ja angeblich direkt von der Straße kommt – aber die Lumpen und der Dreck dürfen natürlich nur ganz einfach angedeutet werden. Denn sie kann nicht wirklich schmutzig sein, weil sie ja eine Verführungsszene zu spielen hat – und diese Szene muss sie mit der schlauen Raffinesse einer Kokotte ausführen, was wiederum im Gegensatz steht zu dem schlichten Charakter, der anfangs in der Zigeunerin hervortreten soll – und dann eine neuerliche Verwandlung, als das Gefühl die Oberhand über die Niedertracht erlangt und schließlich daraus die Tragik entsteht, welche im Schmerz die Seele der Zigeunerin reinigt. Die aufgezeigten falschen Punkte können nur in einer Dissonanz zusammen existieren – deshalb überzeugt Asta Nielsens Schauspiel hier nur in der Darstellung einzelner Gefühle und einzelner Szenen, was aber eine Banalisierung und ein Zurückfallen in Konventionen mit sich bringt. In diesem Kompromiss verliert letztendlich jede einzelne Szene und jedes Gefühl an Farbe und an Kraft, die sie doch im Kaleidoskop ihres Schauspiels für sich selbst besitzen könnte. Außerdem biegen manche Szenen ihr Schauspiel in veraltete Vorgehensweisen, wenn Asta etwa – statt direkt den schnellstmöglichen Weg zu dem Tisch zu gehen, auf dem die Papiere liegen, die das Geheimnis der Erfindung enthalten – erst langsam durch das ganze Zimmer schlendert, als würde ihr gar nicht daran gelegen sein, diese Papiere zu stehlen.
Was also bleibt zum Lob von Asta Nielsen, nachdem wir so viele Vorwürfe mittelbar und unmittelbar gegen sie erhoben haben? Was bleibt ist die Kraft, die Genauigkeit und das Feingefühl des mimischen Spiels – das, womit sie ihre kinematographischen Rollen erschafft und womit sie auf diesem Gebiet ihren Namen bekannt gemacht hat. Es bleibt eine außergewöhnliche Fähigkeit der Bewegung – ein geschmeidiger und für die szenische Kunst hervorragend beherrschter Körper; es bleibt ein überdurchschnittlicher Ausdruck im Blick der wunderschönen riesigen Augen – und es bleibt ein erstaunliches Gefühl für die musikalische Leidenschaft im Schauspiel.
Letzteres ist wohl das Geheimnis des wichtigsten Talents von Asta Nielsen. Sie hat ein außergewöhnliches Gefühl für Rhythmus und Tempo und kann so die Wortpausen während ihres Spiels teilweise ersetzen – so genau kann sie die Pausen aushalten, so rhythmisch unterstreicht sie die mimischen Momente, dass wir den Eindruck gewinnen, den ganzen darin ausgesprochenen Gedanken hören zu können. Damit verbunden sind zum Teil auch die Flüssigkeit ihrer Handbewegungen und das Halten der Pose, das dem Rhythmus melodische Momente zu verleihen scheint – und die hervorragend ausgeführten Übergänge, die durch Stufungen oder durch plötzliche Wendungen beinahe die Dynamik der Stimme ersetzen. Das also ist es, was man bewundern und dem man applaudieren sollte – ein ehrliches Lob für die Spielkunst von Asta Nielsen. Bei einem weiter fortgeschrittenen Stand der Kinematographie könnte sie ihr Talent noch vervollkommnen – und in eine wahrlich hohe Kunst verwandeln.
Adam Zagórski