Database
Welcome to the Asta-Nielsen Database
To filter the database for specific items please use the corresponding functionality on the right side.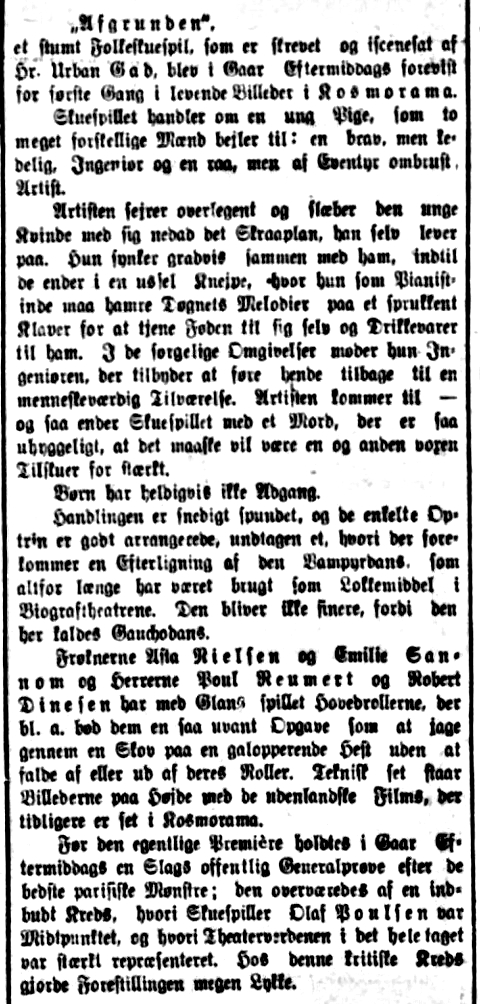 Publisher:
Nationaltidende
Town:
Copenhagen (København), Denmark
Persons:
Nielsen, Asta

Details: actress

Gad, Urban (Peter Urban Bruun Gad)

Details: screenwriter, director

Reumert, Poul

Details: actor

Dinesen, Robert

Details: actor

Sannom, Emilie

Details: actress

Poulsen, Olaf

Details:
Info:
Übersetzung aus dem Dänischen: Klaus Helbach (Universität Trier); Redaktion: Martin Loiperdinger (Universität Trier) Abgründe. Ein stummes Volksschauspiel in bewegten Bildern, geschrieben und inszeniert von Urban Gad, wurde gestern Nachmittag erstmalig im Kosmorama vorgeführt. Das Schauspiel handelt von einer jungen Frau, welche zwei gänzlich unterschiedliche Männer umwerben: ein anständiger, lediger Ingenieur und ein grober, abenteuerlustiger Varieté-Künstler. Der Künstler obsiegt eindeutig und reißt die Frau mit in die Abwärtsspirale, in der er selber lebt. Stück für Stück sinkt sie tiefer mit ihm, bis sie sich in einer Kneipe wiederfinden, wo sie rund um die Uhr auf einem maroden Klavier spielt, um für sich das Essen und für ihn den Alkohol zu verdienen. In diesen trostlosen Umständen trifft sie den Ingenieur wieder, der ihr anbietet, sie zurück in ein menschenwürdiges Dasein zu führen. Da tritt der Varieté-Künstler hinzu – und das Schauspiel endet mit einem furchterregenden Mord, der für die Nerven mancher Zuschauer vielleicht zu viel ist. Kinder haben zum Glück keinen Zutritt. Die Handlung wird folgerichtig entwickelt und die einzelnen Auftritte sind gut arrangiert – bis auf eine Szene, die einen Vampirtanz darstellt. Dieses Lockmittel, das schon viel zu lang in Kinotheatern eingesetzt wird, gewinnt nicht an Chic, bloß weil es hier 'Gaucho-Tanz' genannt wird. Die Fräulein Asta Nielsen und Emilie Sannom sowie die Herren Poul Reumert und Robert Dinesen spielten mit Bravour die Hauptrollen, die sie vor ungewohnte Aufgaben stellten: zum Beispiel im Galopp durch den Wald zu fegen, ohne dabei vom Pferd oder aus ihrer Rolle zu fallen. Technisch gesehen sind die Bilder auf Augenhöhe mit ausländischen Filmen, die bereits im Kosmorama zu sehen waren. Vor der eigentlichen Premiere wurde gestern Nachmittag wie der letzte Schrei aus Paris eine Art öffentliche Generalprobe vor geladenen Gästen abgehalten. Schauspieler Olaf Poulsen stand im Mittelpunkt. Insgesamt war vor allem die Theaterszene stark vertreten. Über die Vorstellung waren Viele in diesem kritischen Kreis durchaus glücklich.